Commercial Director going the Xtra mile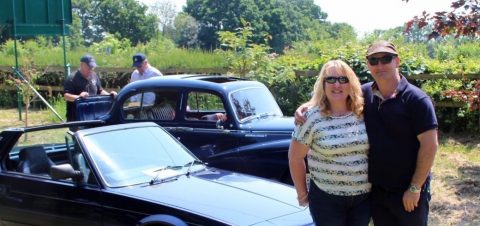 Guy Ransom, Commercial Director at renewable heating experts Finn Geotherm, is swapping heat pumps for highways as he embarks on a 3000mile road trip in his Fiat Bertone X19 classic sports car.
Starting the journey next Friday from Finn Geotherm's offices in Attleborough, Guy and his wife Claire will drive the 1989 Fiat Bertone X19, over to Calais through the Champagne region of France, up into the Alps and across Switzerland to descend into Italy. In Turin, the Bertone X19 will return to its birthplace – the Grugliasco factory, once owned by Bertone and now used by Fiat Chrysler Automobiles to build Maseratis. Here, Guy and Claire will stay overnight at the Hotel NH Torino Lingotto Congress, which was also previously a Fiat factory and still has a test track on the roof – used for filming blockbuster The Italian Job.
The road trip will continue through Monte Carlo to Monaco to drive the Grand Prix route, then up into the Provence region and across the Millau Viaduct – the tallest bridge in the world with a summit of 343m. From there, the Bertone X19 will track up to Le Mans to traverse another famous raceway, before heading North for the final leg of the journey along the Brittany coast from St Malo, via the beautiful artists' town of Honfleur, and back to Calais.
In preparation for this ambitious adventure – considerably more than the average annual mileage Guy has done in the car since he bought it 25 years ago – the Bertone X19 has been tuned up by local Fiat garage Desira in Diss, including totally refurbishing the starter motor and renewing the hydraulic brake fluid.
Guy Ransom, commercial director at Finn Geotherm, said: "We've been planning this trip for months, which will incorporate some of Europe's famous raceways and take our Bertone X19 back to its birthplace in Turin. With its classic sports car looks, the car is still a very practical for this two-week road trip, allowing plenty of room for luggage, even with the roof down. We can't wait to hit the road!"
Keep up to date with Guy and Claire's progress in the Bertone X19 on Finn Geotherm's Twitter and Facebook pages.