Mid-summer madness! 10% off air source heat pumps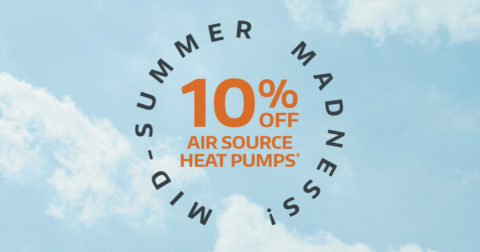 To celebrate mid-summer solstice, we're offering a 10% discount on all Panasonic air source heat pumps ordered on or before 29th June 2018*.
Air source heat pumps provide a better way to heat your home. Cut your heating costs, save energy and help protect the environment. Plus, you'll get paid to switch too by accessing the Government's Renewable Heat Incentive. Now achieve all this AND save 10% on the heat pump cost. It's simply madness!
Contact us now! To request your free site survey and no obligation quote.
For more details on this very special deal, see our Mid-Summer Madness offer page.
*Ts & Cs apply – see www.finn-geotherm.co.uk/madness