Expansion at Finn Geotherm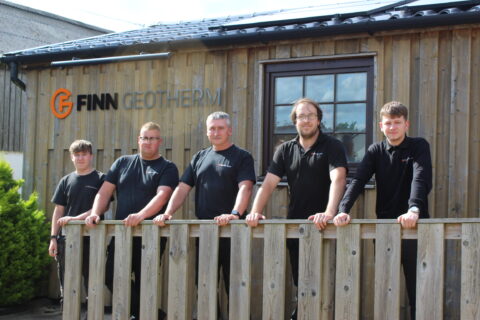 We are delighted to announce the appointment five new staff as part of Finn Geotherm's ongoing expansion, following the award of a multi-million pound contract to install a series of heat pump projects in the public sector.
The new starters have joined the installation and quotation teams, bolstering our capabilities for specifying and installing new heat pump projects for both commercial and domestic customers.
Joining Team FGT are:
Jamie Moore – electrician, responsible for installing and commissioning heat pump systems. Jamie joins with seven years' experience as an electrician working in factory maintenance.
Sam Groves – trainee electrician, working alongside Finn Geotherm's experienced team. Sam joins from College, having completed a Level 3 diploma.
Ross Brown – multi-skilled engineer, responsible for installing heat pumps. Ross has a background in offshore electrical and mechanical engineering and has spent the past six years installing Combined Heat & Power (CHP) systems.
Jeremy Dowsing – electrician, responsible for installing and commissioning heat pump systems. Having spent 32 years in the RAF as an aircraft avionics engineer, Jeremy was looking for a change and keen to join the renewable sector.
Jude Duguay – quotations assistant, working alongside the heat loss surveyor and supporting the quotations team in assessing potential heat pump projects.
Established in 2006, Finn Geotherm is one of the UK's most experienced heat pump installers. The new starters will work alongside the existing team to deliver a series of significant new heat pump projects across East Anglia and further afield, as well as working on Finn Geotherm's other new and existing installations.
Guy Ransom, commercial director at Finn Geotherm, said:
"We are delighted to welcome these new starters to join our growing business. This is a great time to become part of this exciting and dynamic industry. Renewable heating is playing an increasingly important part in cutting the country's carbon emissions and with these new appointments, we are looking forward to continuing to roll out heat pump technology to more homes and businesses."
13th August 2021