Dimplex to Release New Class Beating Air Source Systems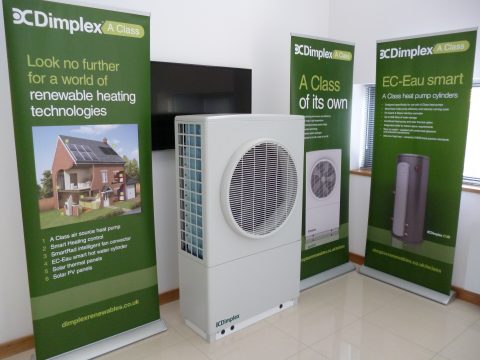 Dimplex have just provided the first glimpses of their new class beating A Class air source systems. Finn Geotherm were one of a handful of Expert Dimplex Installers to be invited to Dimplex's new research and manufacturing facilities in Ireland to receive a sneak preview of the new systems.
The A class is the first large scale air source heat pump system to be designed specifically for the UK market. As such it is able to maintain the headline output levels even in the midst of UK winter temperatures i.e. a 12kW A Class air source will deliver 12kW, even at -7'C. The systems also boast class beating efficiency with seasonal performance factors which compete admirably with ground source systems. The new A Class is also able to deliver a higher heating flow temperature without a significant reduction in COP – the SPF at 55'C being virtually the same as at 45'C.
Being designed and built by Dimplex, these new units don't only perform superbly, they also look great. Whilst virtually every other air source heat pump on the market looks like a remodelled air conditioning unit (often because they are), the A Class looks like a heat pump. It stands strong and proud, with the fan and heat exchanger being raised from the ground to ensure that snow doesn't block the inlet. The compact design of the units also means that they will fall within current permitted development regulations.
The first of these superb new systems are just being released as field trial units for a few very lucky selected clients. Finn Geotherm are delighted and privileged to have had one of their customers selected as a field trial site. The rest of us will however have to wait until October when the units go on limited release to the market. We would strongly recommend getting your orders for these superb units in via Finn Geotherm early, as there is no question that demand will dramatically outstrip supply.
Every so often a piece of ground breaking technology comes along to provide a step change in an industry. Without question, the Dimplex A Class is an example of this. Watch this space for more news on the release date of the A Class systems, or contact Finn Geotherm to place an advance order (not forgetting that until March 2014 you will also be entitled to a grant of £1,300 via the RHPP against the cost of installation of this and all other MCS accredited systems).