As seen on screen – Finn Geotherm featured in local media for Boiler Upgrade Scheme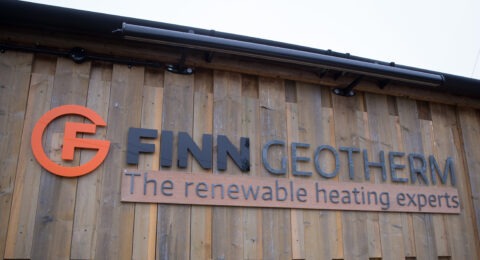 It's been a busy week here at Finn Geotherm, following the Government's announcement of the new Boiler Upgrade Scheme which launches in April 2022.
On Tuesday, our commercial director Guy Ransom was a guest on BBC Radio Norfolk's mid-morning show with Edd Smith to discuss how heat pumps work and what the scheme will mean for homeowners. A great discussion ensued, including dispelling some of the key myths surrounding heat pumps and highlighting some other top information – even a fact about heat pumps helping to reduce the amount of times you'll need to tune your piano!
Wednesday saw Guy with other members of Team FGT, Sally and Simon, appearing on local TV news programme, BBC Look East. The piece discussed the features and benefits of heat pumps, the installation process and the opportunity created by the new Boiler Upgrade Scheme for people to do their bit towards cutting carbon emissions. It also showed case studies from some of Finn Geotherm's customers who use heat pumps to provide renewable heating.
If you would like more information on the Boiler Upgrade Scheme or to discuss your heat pump project, please email us.
21st October 2021