Installation & Maintenance
Expert installation of low maintenance heating
We pride ourselves on delivering the best heating and hot water solutions and excellent customer service.
The installation process
Our objective is to ensure that every part of your experience with us is easy and enjoyable. We use our own highly skilled engineers to install and commission our systems but we are also happy to work closely with any third party plumbers or other contractors involved.
Our friendly team will guide you through each step of the process, which typically looks like this: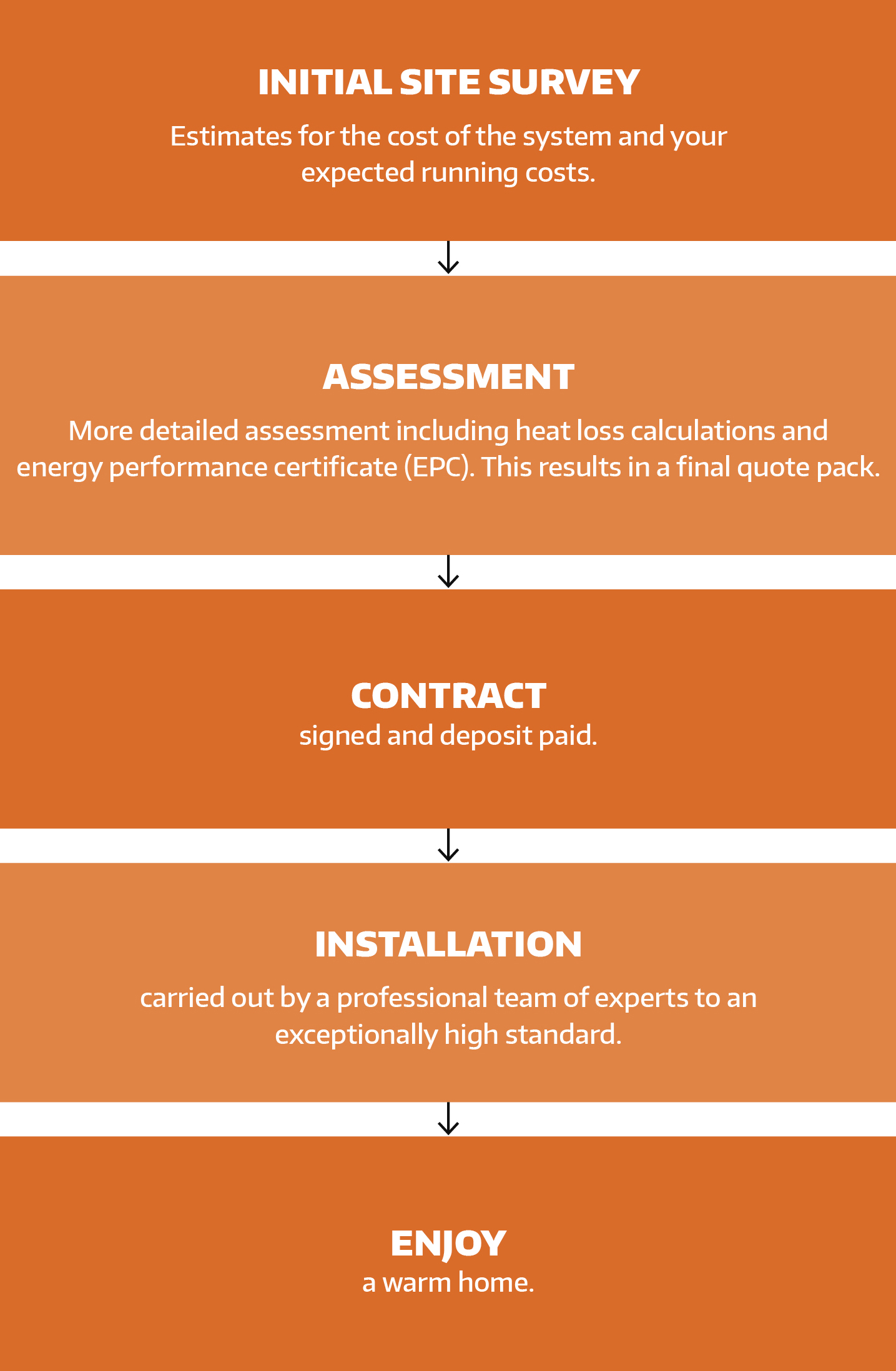 Low maintenance

As a heat pump does not involve any form of combustion, it should last much longer than a traditional boiler and will require less maintenance than other renewable alternatives.
We would expect an air source heat pump to last between 15 to 20 years and a ground source system to last more than 30 years. An average condensing boiler is likely to last only seven to 10 years.
Ongoing support
We are always on hand to provide any aftercare support required and we do recommend that your heat pump system is checked by us each year. Our servicing/maintenance will ensure it is always running as efficiently as it should.
For more information on the many advantages of owning a heat pump, see our Benefits page. Additional details and FAQs can also be found here.
"Everything went smoothly and three years later we still have no regrets. We have been very pleased with the help we have received from Finn Geotherm."
Tony and Sally Valentine, Norfolk
"I would like to thank your team for the excellent work carried out. The workmanship and professionalism was second to none and the site was left clean during and after the work was completed. I will surely recommend Finn Geotherm at any time to potential clients."
Clem Francis, Norfolk
"Finn Geotherm gave us terrific service throughout the installation of our heat pump. They gave us a firm detailed quote and an installation date and programme – all went like clockwork. The installation staff were brilliant – no fuss – no mess – very impressive."
Mr & Mrs B, Norfolk