Award winners! Finn Geotherm presented Domestic Air Source Project of the Year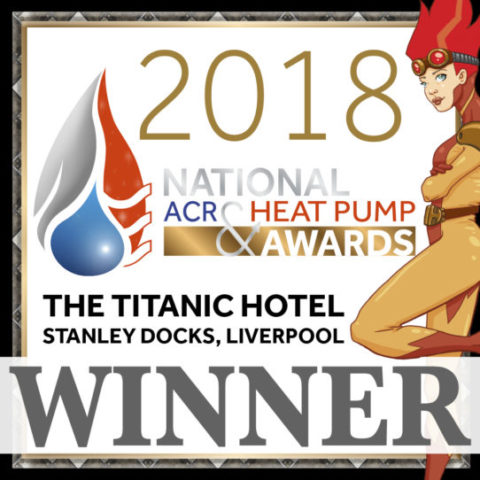 East Anglian ground and air source heat pump installer Finn Geotherm, has won a highly prestigious industry trophy at the National ACR & Heat Pump Awards 2018. The company was also highly commended for a second award.
Finn Geotherm was awarded the Domestic Air Source Project of the Year Award for its installation at a detached home in Breckland, Norfolk. The project for homeowners Mike and Ellie was the second installation completed by Finn Geotherm for them, having already installed an air source unit in their old house. Mike and Ellie were so impressed with Finn Geotherm and the first air source heat pump they had, that they chose them again when they moved into a new home.
Finn Geotherm was also highly commended within the Non-domestic Ground Source Project category for its district heating installation undertaken at 30 flats in Orchard Close, Watton for housing association Flagship Group.
The sought-after National ACR & Heat Pump Awards celebrate excellence in innovation, projects, installations and environmental successes in the air conditioning and refrigeration and heat pump industries. They bring together manufacturers, end users, distributors, heating engineers, ACR contractors and consultants from across the country.
Guy Ransom, commercial director of Finn Geotherm, said: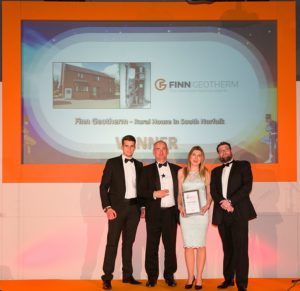 "We are absolutely delighted to have won a National ACR & Heat Pump Award and to be highly commended for a second. We undertake every single installation with the utmost care and attention to detail to ensure that we deliver the best possible heating and hot water system – it's the way we have always run Finn Geotherm. To win an award for a project which is the second installation we have completed for a customer is testament to the fantastic customer service, dedication and expertise of the entire Finn Geotherm team."
Read the full case studies for Mike and Ellie's air source installation and the Orchard Close district heating project.