Budding Young Businessman Scoops Two Top Apprenticeship Awards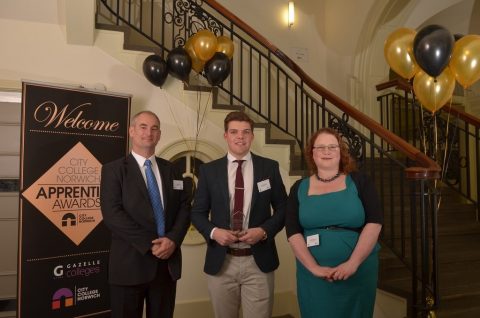 Budding young businessman, Brendan Scott from Morley St. Boltoph, has scooped two top awards from City College Norwich in its annual apprenticeship awards. The ceremony took place on March 11, 2015 at OPEN in Norwich, during National Apprenticeship Week.
Brendan, aged 20, was awarded Business Services Apprentice of the Year 2015 for his two year NVQ Level Three course which covers all aspects of business administration including communication, negotiation and marketing. In addition to winning the award for Business Services, Brendan was selected from over 1,200 learners in apprenticeships and work-based NVQ training across the region to be awarded the top prize of the night – Overall Apprentice of the Year.
Throughout his apprenticeship, Brendan has been working as quotations and marketing administrator for Attleborough-based Finn Geotherm, East Anglia's leading supplier and installer of ground and air source heat pumps. The role has enabled him to put theory from the course into practice, as well as providing invaluable on the job experience.
Brendan Scott said:
"I am absolutely delighted to have won the Business Services award and to scoop the Overall Apprentice award too really is the icing on the cake. I have thoroughly enjoyed doing this apprenticeship, which has provided a useful foundation for my career in the business world. My employer Finn Geotherm has been so supportive during my course – I couldn't have done this without them."
Debbie Richardson, tutor/assessor at City College Norwich, said:
"Many congratulations to Brendan for winning this award, which is a testament to the hard work he has put into his apprenticeship. When I first met Brendan he was very shy and lacked in confidence and it's been a real pleasure to watch him develop in his role. His technical knowledge astounds me every time he produces evidence for his portfolio and the work that he did for the Norfolk Show for Finn Geotherm was above and beyond. He just takes such pride and high standards in his work. He is a very worthy winner."
Guy Ransom, commercial director of Finn Geotherm, Brendan's employer, said:
"Brendan has provided a huge contribution to the day to day work that we do here. He is an invaluable resource in terms of the heat loss assessments that we carry out, and in working on the marketing side he has provided a great deal of assistance in structuring activities like the Royal Norfolk Show for us. What has been superb for us though has been seeing Brendan's confidence increase. He's able to chat with anybody and everybody with great relaxation and confidence and put forward our company in a very professional and astute manner."