Double national award win for Finn Geotherm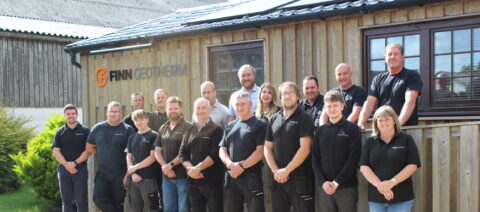 In a week where heat pumps have been recognised by the Government as the future of heating in the UK, we are delighted to announce that we have scooped two prestigious national awards for heat pump installations completed for housing association Flagship Group and museum and visitor centre West Stow Anglo-Saxon Village.
Finn Geotherm was awarded Non-Domestic Ground Source Project of the Year at the National ACR & Heat Pump Awards on Wednesday night. These top national trade awards celebrate the highest achievements across the heating, ventilation and air conditioning sector, and Finn Geotherm was recognised for its landmark £1.4m communal heating scheme (also known as district heating) installed in Felixstowe for Flagship Group. The project saw Finn Geotherm design a six-phase system which heats a total of 115 houses, bungalows and apartments using ground source heat pumps located in six plant rooms around the housing estate. The heat pumps replace expensive and inefficient electric storage heaters, saving residents 70% on their heating bills and cutting their carbon emissions by 70%.
The company's second award win this week was at last night's RAC Cooling Awards, which celebrate best practice, achievement and the environmental progress of the industry. Finn Geotherm was awarded Building Energy Project of the Year for its heating and passive cooling project at West Stow Anglo-Saxon Village near Bury St. Edmunds in Suffolk. The project uses a ground source heat pump to heat the four main buildings on the site. Using its expert knowledge of heat pumps, Finn Geotherm also created a passive cooling system. This enables West Stow to maintain a steady temperature across the site all year round – something which is vital for maintaining its precious artefacts. By replacing an oil boiler and underfloor electric heating, the new heat pump has cut carbon emissions by 70%, which is also supporting West Suffolk Council's aim to achieve net zero carbon emissions by 2030.
Guy Ransom, commercial director at Finn Geotherm, said:
"We are absolutely delighted to have been recognised in these two major award schemes. This week there has been so much talk about heat pumps and their ability to cut carbon emissions and provide effective, efficient heating. These two award wins show just how brilliant this technology is in real life. We have always known the heat pumps are the future of heating – we've been installing them since 2006 – so for us to receive praise for two significant projects for Flagship and West Stow is testament to the dedication of the team at Finn Geotherm and our absolute passion and belief in what we do."
22nd October 2021