Finn Geotherm at Low Carbon Homes Forum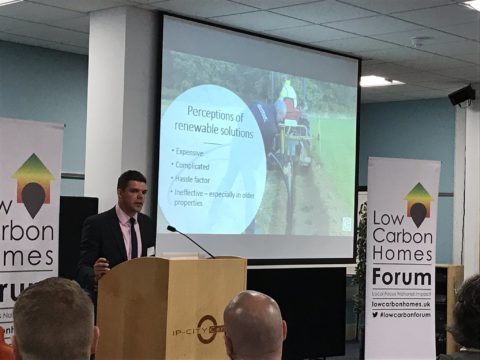 We were very pleased to be a sponsor at last month's Low Carbon Homes Forum East, which took place in Ipswich. The event was a great success, providing an excellent opportunity for the region's housing professionals to listen, learn and question domestic energy efficiency and all-things-retrofit.
Our energy assessor, Brendan Scott, kicked off the day's proceedings with a presentation on the challenge to substantially reduce carbon emissions from heating in UK housing stock. With 82% of domestic energy consumption on heating and hot water, Brendan outlined the task ahead, along with some of the current barriers and great opportunities presented by renewable technology such as heat pumps.
For a copy of Brendan's presentation and all the other seminars and workshops from the day, including the Ground Source Heat Pump Association, Suffolk Climate Change Partnership and The Green Register, see the Low Carbon Homes website.
6th June 2019