Finn Geotherm shortlisted for two top national awards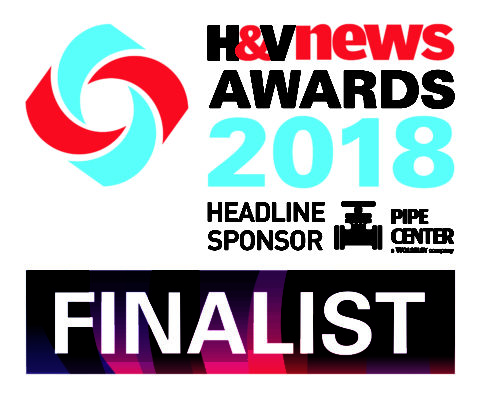 Attleborough based renewable heating expert Finn Geotherm, has been shortlisted for two top national awards for its district heating installation for housing association Flagship Group.
The Heating & Ventilation News (HVN) Awards 2018 celebrate excellence, forward thinking and the highest achievements across the building services industry. The awards cover the UK's entire Heating Ventilation and Air Conditioning (HVAC) and building services supply chain, and is open to companies including installers and consultants as well as building owners themselves.
Finn Geotherm's installation for Flagship Group has been shortlisted for both the District Heating Project of the Year Award and the Renewable Project of the Year Award. The ground source heat pump system is delivering domestic heating and hot water for 30 flats at Orchard Close in Watton, Norfolk. The first domestic heating scheme for communal use in the East of England, it will cut Flagship customers' heating bills by two thirds, creating annual savings of hundreds of pounds. In addition, it enables Flagship to dramatically reduce its maintenance costs and CO2 emissions. The project is expected to be the first of many for the housing association, with Flagship hoping to roll out other ground source heat pump systems to other customers as part of its plan to create more affordable and environmentally friendly homes.
Guy Ransom, commercial director at Finn Geotherm, said:
"We are absolutely delighted to have been shortlisted for two awards in the prestigious HVN Awards scheme, which recognise the country's most significant heating products and projects. Being placed as a finalist in two categories is both a testament to the forward-thinking strategic approach of Flagship and the hard work and skill of the team at Finn Geotherm in delivering the best possible solution for the organisation and its tenants. We thoroughly enjoyed working together on this project and hope we can soon be celebrating its success together too!"
Matt Smith, Compliance Manager at Flagship, said:
"To be shortlisted for these two awards is fantastic news. We have worked hard to get the scheme up and running, so to be recognised in this way is a great achievement for everyone involved. We are continually trying to improve the service we offer our customers while at the same time reduce our carbon footprint, and the system in Watton has allowed us to do both."
Winners of the HVN Awards will be announced on 19th April 2018 at a black tie event in London.
Click here for more details on the Flagship installation.