Going green – financial incentives for renewable heating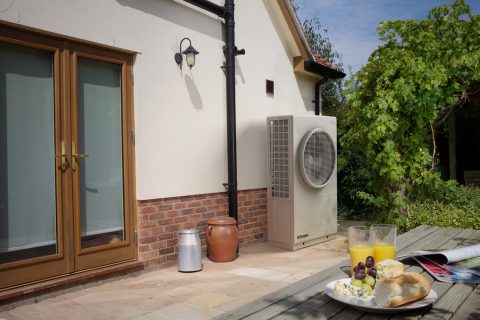 Renewable heating offers many advantages, not least lower emissions, cheaper bills and access to government funding for a system which has a relatively short payback period.
Guy Ransom, commercial director at Finn Geotherm, explains how you can get paid for renewable heating.
Renewable Heat Incentive (RHI)
The main funding scheme offered by the government for installing renewable heating is the Renewable Heat Incentive (RHI). There are two RHI schemes available – domestic and non-domestic (commercial) – for installations using solar thermal, biomass, ground source and air source heat pump technologies.
The domestic RHI is for single rated properties and is payable for seven years. Quarterly tax-free payments, which increase annually in line with the consumer price index, are made to the homeowner. The amount of RHI payable is based on the energy performance certificate (EPC) you receive once your heating installation is complete. Typically, a biomass installation could payback in about eight years (depending on fuel source) or around 10 years for solar thermal. A ground or air source heat pump system usually pays back in four to five years.
The non-domestic RHI scheme is for business rated properties of more than one building. Payable for 20 years, it is based on the amount of clean, green renewable heat the system produces. Typically, a ground or air source heat pump system should payback in around five to six years (including cost savings made). This is significantly shorter than the payback time for commercial biomass since the RHI tariffs for this technology have been reduced.
The rates paid under the RHI vary depending on what system you are installing. Currently, heat pumps (ground and air source) are seen as the best technology to use and offer higher payments. In April this year, the government reduced payments for new biomass applications by 10 per cent. At the same time, it also made a significant change to the application process which enables self-builders to apply for the RHI straight away, despite if they only recently moved into their home. Previously, rules stated the home must have been occupied for at least 183 days in the last 12 months.
The RHI was launched for non-domestic installations in 2011, followed by domestic in 2014. While the scheme is currently supported until at least 2022, the government continues to adapt the criteria so it is important that you, and your installer, keep up to date. Further changes have been mooted for 2017 including a cap on larger properties and the removal of support for solar thermal installations.
Feed in Tariffs (FITs)
If you're looking for further opportunities to go green at home, the Feed in Tariffs (FITs) scheme is another government scheme designed to encourage uptake of a range of small-scale renewable and low-carbon technologies to generate electricity. Under FITs, you could be paid for the electricity you generate if you install an eligible system such as solar PV or a wind or hydro turbine.
The main difference between this and the RHI is that RHI payments are made from the budget, whereas FITs are funded by householder bills. Rates offered by the government for FITs were drastically cut in early 2016, while funding for RHI is set to be increased by two and a half times from £430 million in 2015/16 to £1.15 billion in 2020/21*, making the RHI the most attractive financial incentive currently available.
How to qualify
To qualify for the RHI and/or FITs, the installation must be carried out by an MCS company. The Microgeneration Certification Scheme (MCS) is a nationally recognised quality assurance scheme, which certifies microgeneration technologies used to produce electricity and heat from renewable sources.
Your installation must also adhere to the Renewable Energy Consumer Code (RECC), operated by the Renewable Energy Association.
In addition, to qualify for RHI payments, you must have funded the heating installation yourself. Green Deal finance schemes which previously helped to pay for such installations ended last year.
Any good renewable heating company should be able to guide you through the RHI process, including providing an idea of how much your quarterly payments will be. We found this is one of the key drivers when installing a new heating system so we launched a new RHI calculator on our website to help consumers gain an estimate in just a few clicks.
Renewable heating is the obvious choice for any self-build project and with government incentives in place, there has never been a better a more profitable time to complete your installation.
Guy Ransom is commercial director at Finn Geotherm, East Anglia's leading installer of ground and air source heat pumps. www.finn-geotherm.co.uk
*Source: Department of Energy and Climate Change's settlement at the Spending Review, 25th November 2015