National HVAC Woman of the Year – our very own Leanne Gill!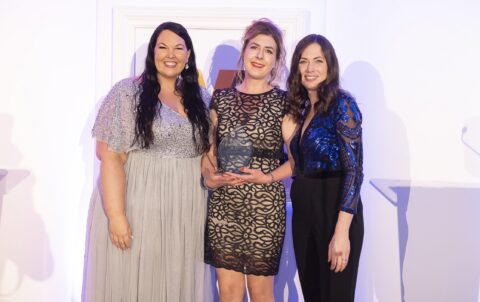 Leanne Gill, our operations manager, has beaten off stiff national competition to win a prestigious award for women in the Heating, Ventilation and Air Conditioning (HVAC) industry.
Leanne won HVAC Woman of the Year in the Heating & Ventilating Review (HVR) Awards 2023. The awards champion innovation, excellence and achievement across the heating and ventilating industry. The hotly contested HVAC Woman of the Year category was new for this year and looked to recognise a woman who has made an exceptional contribution to her employer's business, stands out among peers for her hard work and dedication, and upholds the highest standards in business.
Finn Geotherm's longest serving employee, Leanne joined the company 15 years ago as a receptionist and administrator to work alongside technical director David Alston as he set up one of the UK's first heat pump installation companies. She has been a driving force in the growth of the business ever since whilst developing her career to become a qualified accountant, operations manager and, in 2022, company secretary at Finn Geotherm.
Joining the heat pump industry at a time when people didn't know what heat pumps were or what they could do, Leanne was also one of the very first women in the HVAC sector. Working in a very male dominated industry, Leanne was among those leading the charge for women in HVAC and shifting perceptions of females. Today, her knowledge of the systems and how they work is second only to Finn Geotherm's most senior heat pump engineers. Leanne represents not only determined and driven women but also working mums. She managed to juggle working and progressing her career at Finn Geotherm with having a young daughter.
During the past 15 years, Leanne's role has also grown to cover new regulations within the heat pump industry and the necessary compliance for Finn Geotherm, as well as taking on project management for increasingly complex installations as Finn Geotherm continues to be appointed for more challenging heat pump projects.
Leanne Gill, operations manager at Finn Geotherm, said:
"I am delighted to have won this national award. As a female in the HVAC industry, my role has been challenging at times but I always had the full support of Finn Geotherm behind me. Things have moved on a lot in the past 15 years – there are now more women taking up key roles in HVAC and I hope the next generation of project managers and installers will be filled by many more.
"I love this job. No day is the same. Every project is unique and has different requirements. We're genuinely making a difference to people's lives and, at the same time, we're doing our bit to help the environment which is crucial right now. The large-scale projects we're currently working on at Finn Geotherm are really exciting and cutting edge and I'm looking forward what HVAC brings in the future."
Guy Ransom, commercial director at Finn Geotherm said:
"We are immensely proud to see Leanne receive this prestigious national award. Leanne's dedication to our company, and her rapidly accelerating role and responsibilities, has been incredible. It has been a pleasure to watch this amazing young woman develop in confidence, skill and knowledge – her abilities evolving as the demands placed upon her have increased enormously over the past 15 years. Leanne is a fantastic role model. We are honoured to have her in our team at Finn Geotherm and representing women in the HVAC industry."
Continuing its success at the HVR Awards 2023, Finn Geotherm was also awarded Collaboration of the Year alongside heat pump manufacturer Panasonic, for the partnership developed to specify and install the first 210kW air source heat pumps in Europe for University of West London's Paragon House.
11th October 2023