New range of Lämpöässä Ground Source Heat Pump products aim to further reduce heating costs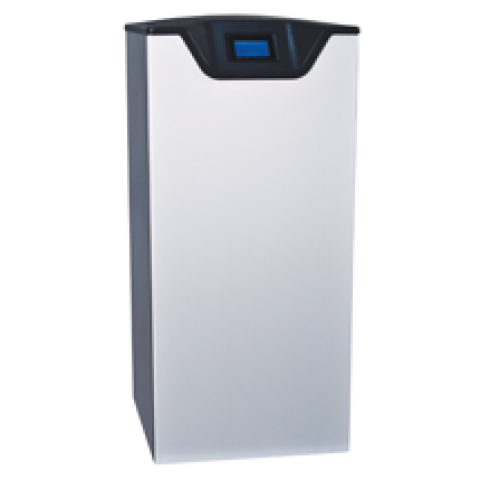 Finn Geotherm, the Norfolk-based renewable heating experts, have added the very latest in Finnish designed-and-produced ground source heat pumps to their range, which can deliver even greater efficiency and savings in domestic and commercial heating costs, as well as a range of further benefits.
Since it was established in 2006, Finn Geotherm has been the UK's only approved installer of ground source heat pumps manufactured by Lämpöässä in Finland, the leaders in ground source heat pump innovation, and has successfully completed installations of all sizes across the country. The new models are called Esi and the larger output Emi.
Ground source heat pump systems can not only dramatically reduce heating bills, often by more than 50%, but will also qualify for the Renewable Heat Incentive (RHI). Heat pumps are designed to work day and night all year around and typically generate between 3 and 4 kW of heat for each kW of electricity that they use. Heat pump systems are also designed to be very low on maintenance, with an annual system inspection usually being all that is required.
The principal benefits of the new Lämpöässä units from Finn Geotherm are an increase in efficiency, as it costs up to 30% less to generate the same amount of heat as other models and they are much more compact than other equivalent heat pumps.
New touch screen controls are clearer and operation via the internet from laptops, smart phones and tablets is even easier, while sound output has also been reduced.
Guy Ransom, commercial director at Finn Geotherm, said: "The introduction of these latest model ranges to the existing superb family of Lämpöässä ground source heat pumps will further extend our ability to provide highly efficient installations that give our customers significant savings in their heating bills. These latest systems will continue to provide all of our customers' heating and hot water, irrespective of weather conditions, but now deliver even greater savings and flexibility on installation with easier control of operation.
"We have installed nearly 500 heat pump systems at everything from bungalows to large businesses such as the Longlands Business Park on the Holkham Estate in Norfolk. We've also been able to provide ground source systems to provide all of the heating and hot water for large stately homes, dispelling the myth that the technology is only applicable for new, well insulated houses."
A Lämpöässä heat pump installed by Finn Geotherm will typically generate 4kW of heat for every 1kW of electricity that is uses. The ratio of heat to electricity is called the coefficient of performance, or COP, and is the standard measure that is used to describe the efficiency of a heat pump.
The new Esi and Emi systems boast industry-beating COPs of up to 4.56. As with all Lämpöässä systems, they are monovalent and efficient enough to provide all heating and hot water needs, and have been designed to provide a compact heat pump capable of being linked to a variety of thermal stores. This complements the existing VM and Vsi models, which have an integrated thermal store, for installations where a single compact unit is required. Both the Esi and larger Emi range of units are capable of being connected in tandem with other Esi or Emi systems, or with Lämpöässä Vm models, in order to meet the heating requirements of larger properties.
Ground source heat pumps qualify for the Domestic and Non-Domestic Renewable Heat Incentive (RHI) tariffs. This government financial incentive, designed to promote the use of renewable heat, provides regular payments to householders and commercial enterprises, which have upgraded to renewable energy heating systems.