Sam scoops Apprentice of the Year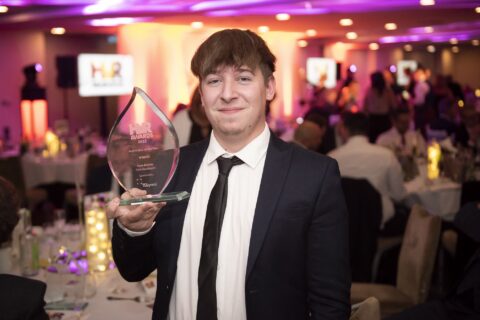 Sam Groves, our 21 year old trainee electrician, has scooped the title of Apprentice of the Year in a national awards scheme for the heating industry.
We are delighted to announce that Sam has just been presented Heating & Ventilating Review's (HVR) Apprentice of the Year award. The awards recognise key achievements within the UK heating industry, with Apprentice of the Year given to an individual who shows great potential, determination and a promising career ahead.
Sam joined Finn Geotherm a year ago from Norwich City College and during his time with us, he has been working alongside our fully qualified electricians to gain valuable on the job experience installing ground and air source heat pump systems. Starting with small domestic installations, Sam's skills and knowledge have progressed to enable him to work on large commercial projects including some of our biggest installations to date for public sector clients in London. Alongside his job, Sam is currently undertaking an 18-month course at West Suffolk College, which will result in an AM2 electrical installation qualification.
Sam said:
"I am overwhelmed and delighted to have won Apprentice of the Year. Working on the installation of heat pump systems at Finn Geotherm has opened an exciting and challenging long-term career path that I had no idea existed when undertaking my initial studies at college. Heat pumps are the future of heating and I am excited to have joined this industry at the ideal time. I have relished the opportunity presented to me at Finn Geotherm and I am determined to succeed in this industry, working hard to grow my skills and expertise. Winning the award has given me an extra boost as I finish my apprenticeship, ready to embark on the next stage of my career."
Guy Ransom, Finn Geotherm's commercial director, said:
"At Finn Geotherm, we believe we are well placed to provide training in heat pump installation skills, but what we cannot teach is attitude and Sam has this in spades. He has risen to every single challenge we have given him since joining us. We are currently installing some of the largest heat pump systems in Europe and he has played a key role in these projects, not only in providing support for our qualified electrical engineers, but also now in installing the equipment on his own. Sam is a superb asset to our company and an example to his colleagues and others seeking to join the industry. Congratulations to Sam – he is a very worthy winner indeed of Apprentice of the Year."
Huge congratuations Sam from all of us!
10th October 2022