Winner! EDP Business Awards 2016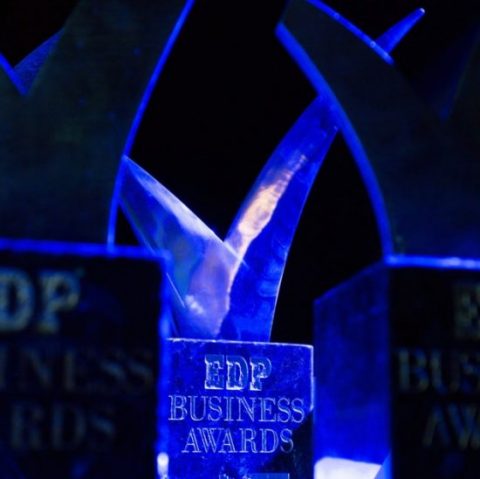 Finn Geotherm – the leading heat pump installer in Norfolk, has won the Rural Enterprise Award in the prestigious Eastern Daily Press (EDP) Business Awards 2016.
The Rural Enterprise category, sponsored by West Raynham Business Park, celebrates rural businesses who are innovating and creating jobs and opportunities across the county. From artisans to start-ups, to companies who have found new opportunities through innovation and diversification, this award recognises the dynamic individuals and enterprises who are passionate and proud to be rural, but whose ambitions are not limited by their location.
Winners of the EDP Business Awards were chosen from hundreds of entries received from companies across Norfolk, Waveney and Fenland.
Celebrating its 10th year in business, Attleborough-based Finn Geotherm has grown from three employees installing 6kW heat pumps to a 20-strong team designing, specifying and installing 350kW systems for pan-European companies.
Guy Ransom, commercial director of Finn Geotherm, said:
"We are very proud to be located in rural Norfolk. This location is our heartland and one where renewable energy systems provide the best possible alternative to hard-to-access fossil fuels for both domestic and commercial customers in all types and sizes of homes and premises. We are absolutely over the moon to have been awarded the Rural Enterprise Award. The EDP Business Awards are one of the region's most prestigious business award schemes and to win this award, especially in our 10th year of business, is testament to the hard work and dedication of the entire team here at Finn Geotherm."
To view Mustard TV's EDP Business Awards video, click here.