Winner! Finn Geotherm scoops national award for heating and cooling project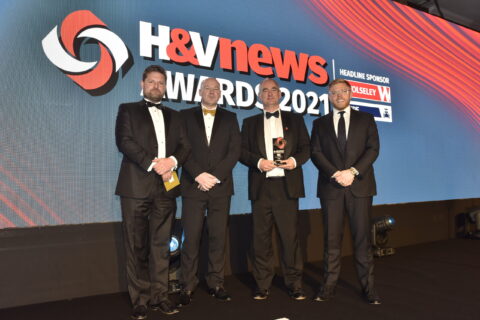 We are over the moon to announce our renewable heating and passive cooling project for West Stow Anglo-Saxon Village has won a prestigious national HVAC award.
On Thursday night, we attended the Heating & Ventilation News Awards 2021, hosted by comedian Rob Beckett at the Hilton Park Lane, London. We were delighted to win Heat Pump Project of the Year for our heat pump installation at West Stow.
West Stow is a reconstructed Anglo-Saxon village which attracts visitors from schools, tourists and locals throughout the year. The new ground source heat pump we installed replaces a poorly controlled, inefficient and expensive oil boiler and underfloor electric heating, to provide heating and passive cooling for West Stow's visitor centre, museum and café. The ground source heat pump system has enabled West Stow to cut its carbon emissions by 70% and created more welcoming facilities for visitors, while maintaining a steady temperature for its precious artefacts all year round.
Judges at H&V News Awards said this was a 'very interesting ground source project, which provides additional energy savings in the form of passive cooling – meeting the criteria of innovation and occupant benefit and impact in spades'.
With 25 categories rewarding different aspects of the industry, the H&V News Awards recognise the leading people, products, projects and services in the sector. This diversity and credibility means the H&V News Awards are among the most sought-after accolades in the HVAC sector.
Andrew Gaved, Editor of Emap's RAC and H&V News magazine, who co-hosts the H&V News Awards said:
"These have been challenging times for HVAC, with companies working throughout the lockdowns keeping people warm and safe, while finding times to serve their communities. So we are especially proud at the H&Vs to reward the human endeavours alongside the technical endeavours.

"As the journey towards net zero depends heavily on reducing carbon from heating, it is the HVAC industry that will need to lead the way – and that crucial combination of people and technology means that I have every confidence that it will succeed."
Finn Geotherm's heat pump installation at West Stow was also highly commended within the HVAC Project of the Year – Under £0.5million category.
To read more on the project, see our case study.
15th November 2021