Energy efficient Broome bungalow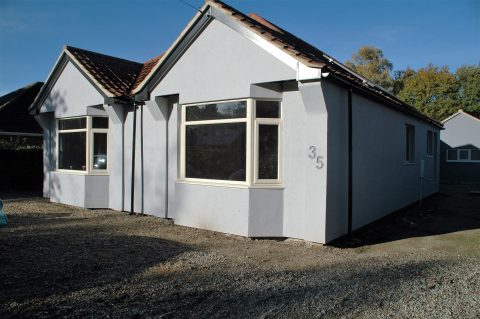 Heat pump experts Finn Geotherm, have specified and installed an air source heat pump in a 1940s bungalow in Broome, Norfolk, which is undergoing total refurbishment.
The three bedroom bungalow is being refurbished by owners Bob and Pat Bridges, who are undertaking most of the work themselves. The two year project has seen the couple completely strip back the bungalow and reconfigure the layout, as well as building an extension on the back and a new workshop. The work has been undertaken with maximum energy efficiency and the environment in mind, including the use of innovative Nudura Insulated Concrete Form (ICF).
With no gas in the area, air source was the ideal choice for Bob and Pat, who wanted a suitable system for the bungalow's underfloor heating and hot water requirements. Finn Geotherm has installed a Dimplex A8 heat pump, along with a combined 210 litre domestic hot water and 40 litre buffer tank. By working closely with the homeowners in the planning stages of the project, Finn Geotherm were able to run both the flow and return pipes and the power and control cables for the heat pump underneath the foundations of new workshop before it was built. This minimised any exposed pipe and cable runs, making for a very neat installation.
Bob Bridges, homeowner, said:
"I'm very pleased with our air source unit. By working with Finn Geotherm from the outset, we were able to get our system installed exactly how we wanted it, with cables and pipes running out of sight under the new workshop and straight into the bungalow utility room. The installation was perfect and Finn Geotherm are only ever a phone call away if we have any queries. The project is progressing nicely and we can't wait to move into our new home soon."
Guy Ransom, commercial director at Finn Geotherm, added:
"While we do carry out a large number of retrofits, there are definite advantages for both the customer and us in being involved during the early stages of a project such as this. The heat pump system's requirements can be incorporated directly into the planning and then the installation carried out at the optimum time during the schedule of works. We are very pleased with Bob and Pat's installation and look forward to seeing the finished property."
The running of Bob and Pat's heat pump will release zero carbon. Once fully operational, the heat pump installation will benefit from the government's RHI scheme, a government financial incentive which rewards people and businesses for opting for renewable energy.
The bungalow is still work in progress. We'll report back once complete!