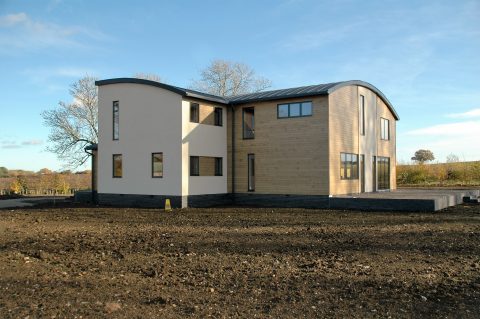 A stunning curved roof self-build home in Norfolk will benefit from energy-efficient renewable heating, thanks to a ground source heat pump and heat recovery system installed by renewable heating experts, Finn Geotherm.
The four bedroom house in Topcroft, near Bungay, is being built by owners Peter and Wendy Rout. The house, due for completion in April 2017, is being constructed to the highest efficiency levels with maximum insulation and renewable technologies used throughout.
Finn Geotherm has installed a Lampoassa ESi11 ground source heat pump connected to 500 metres of ground loop laid in the house's grounds, with a 700 litre Lampoassa TV thermal store. The system will feed the entire house's underfloor heating circuit and provide up to 350 litres of hot water in one go. A Grundfos Bronze circulating pump delivers hot water almost instantly anywhere in the house. A Monarch Midi water softener has also been fitted to eliminate lime scale, which can compromise the performance and longevity of any heat pump system.
The Mechanical Ventilation with Heat Recovery (MVHR) system installed by Finn Geotherm is an Enervent Pelican. With a floor area of almost 400m2, the outstanding energy-efficient construction of the building and its managed air handling system, makes its peak energy demand only 10.40kW.
By working closely with Peter Rout, Finn Geotherm have been able to complete the installation to fit in with the build schedule and to ensure works such as the ground loop being laid, are completed at the best possible times. A dedicated plant room has also been incorporated into the design of the house.
Peter Rout, homeowner, said:
"I've always wanted to do a self-build like this and I'm really pleased with how the project is progressing. Working with Finn Geotherm from the outset has enabled me to plan the heating/heat recovery systems and schedule in installations around which areas of the house I am working on. I can't wait to get the house finished and move in!"
Once operational, the heat pump installation will benefit from the government's RHI scheme, a government financial incentive which rewards people and businesses for opting for renewable energy.
This stunning house is still work in progress. We'll report back once complete!