Heat Pump Month blog series – Looking to the future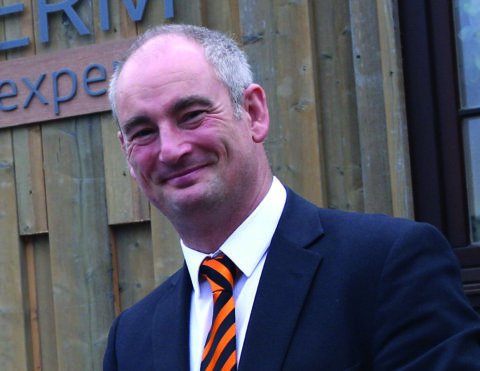 As part of Heat Pump Month, we're publishing a series of blogs about this brilliant technology and the vast opportunities to use it to cut energy bills and reduce carbon emissions, while keeping homes and businesses warm.
In this blog, we talk to Guy Ransom, Finn Geotherm's commercial director, about the future of heat pumps and the opportunities and challenges faced by the industry. Guy has been working in heat pumps for more than a decade and is extremely passionate about their great potential to deliver better, more effective and more efficient heating for all.
Where is the heat pump market going?
It is clear that the rate of application of heat pumps is significantly increasing across the domestic and commercial marketplace. It appears to be that going forward, small scale domestic air source heat pump installations will become very commonplace and much more the norm for 'conventional plumbers' as part of their day to day work.
The greatest opportunity however, lies in the development and application of large scale commercial projects such as district heating and public and commercial buildings. The development of technology has now made provision of heat pumps for projects such as these totally viable and economically feasible. In order to provide the resource for the projects to be achieved, it is desperately important for a medium-term plan – for example, five years – to be established by the Government. This is required to facilitate investment in installation capacity, particularly trained personnel, and manufacturing capacity for the systems themselves. If this could be achieved, there really is the opportunity to achieve the reductions in carbon emissions that we so desperately need. Without it, the good intentions of the Government will be virtually impossible to be met by the industry.
Why must we act now?
Heat pumps provide 3 – 4 kW of heat for every 1kW of electricity used. They create only as much carbon emissions as are generated by the creation of the electricity required to power them. Heat pumps can be applied to any building – large, small, ancient, modern, domestic, commercial – with the correct design of both the heat pump heat generation system and heat distribution. Any room in any building can be brought to its target temperature using a heat pump. This is the only practical means of achieving the carbon reduction that we need to meet the nation's targets and to have an impact on the climate emergency. Add to this, the significantly reduced maintenance that large scale heat pumps require compared to localised boiler generation and the cost and logistical benefits are compelling.
In order to achieve the carbon reduction that is planned by 2030, the heat pump market, in both manufacture and design and installation, needs to grow dramatically. Annual heat pump installations need to hit 600,000 by 2028 to align with the Prime Minister's Ten Point Plan for a green industrial revolution. It is an ambitious target which would require the UK to increase the current number of heat pumps installed in homes each year by at least 25-fold by 2028 to meet it.
For the UK heat pump industry to have any chance of meeting the scale required manufacturers and installers need to start increasing capacity now. This requires both to have certainty of outlook, which can only be provided via medium-term strategic plans. If the Government delays in establishing these and working with the bodies they need to achieve targets, the industry will simply not have the time required to train its personnel and expand its manufacturing capacity. We must have a road map from the Government on its plans to decarbonise and aims for a solution to the climate emergency. The UK is desperate to transition to low carbon heating but we need a clear strategy. Bring it on – we can do it!