Celebrating our 15th anniversary and £22m secured for customers through RHI scheme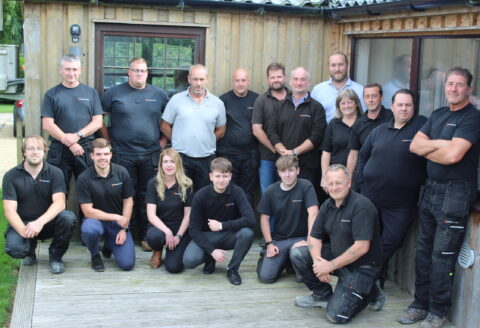 We are celebrating two major landmarks at Finn Geotherm – our 15th year in business and securing a total of £22million in Renewable Heat Incentive (RHI) payments for customers who have switched to a heat pump for their heating.
Established in 2006, the company was started by technical director David Alston, who first ran Finn Geotherm from a container unit on his father's farm in South Norfolk. An engineering graduate, David spotted the opportunity to bring heat pump technology, which was being widely used in Finland, to heat homes here in the UK. Finn Geotherm became the only approved UK installer of award-winning Lämpöässä ground source systems.
Today, the company has modern offices and a showroom just off the A11 and employs a total of 25 staff. In its 15 years, the company has installed more than 1,000 ground and air source heat pump systems in properties ranging from two-bedroom bungalows and converted windmills to stately homes and even at the zoo in locations across East Anglia and beyond. Heat pumps are now widely accepted as one of the best low carbon heating systems available, with the Prime Minister's Ten Point Plan committing to deploy 600,000 heat pumps a year by 2028.
David Alston, technical director at Finn Geotherm, said:
"I understood the massive potential of the UK heat pump market when I first started Finn Geotherm 15 years ago and we've steadily grown the company as more and more people see for themselves the many great benefits of having a heat pump for their home or business. For the Government to now announce these systems as the future of heating, marks the start of the next exciting chapter in Finn Geotherm's history."
On its 15th anniversary, Finn Geotherm has also reached the huge milestone of securing £22million in Renewable Heat Incentive (RHI) payments, which will be shared among the domestic and commercial customers for whom it has designed and installed ground and air source heat pump systems.
The RHI is the current government initiative designed to reward people for switching to a more environmentally friendly form of heating. Administered by Ofgem, the scheme comprises the Domestic RHI for homeowners and Non-domestic (Commercial) RHI for commercial customers. Based on the amount of clean, green heat produced, both provide tax-free quarterly payments for seven years under the Domestic scheme or 20 years for Commercial. The Domestic RHI ends for new applications in March 2022 and will be replaced by the newly announced Boiler Upgrade Scheme. The Non-Domestic RHI ended in March 2021.
As one of the UK's longest established renewable heating companies, Finn Geotherm has been helping its heat pump customers apply for this tax-free incentive since it was first introduced in April 2014. The company has kept a log of all the RHI payments it has secured for its domestic and commercial customers and this has now reached a total of £22million pounds.
Guy Ransom, commercial director at Finn Geotherm added:
"To reach this incredible milestone of £22million in our 15th year of trading is testament to the hard work of the entire team at Finn Geotherm in installing these heat pump systems and ensuring our customers receive the maximum benefit of switching to clean, green heating. At a time when we all need to be doing our bit to tackle climate change, we could not be more proud of the role we play in helping people to choose a better method of heating."
29th November 2021